TV
keyboard_arrow_right
Divx/Xvid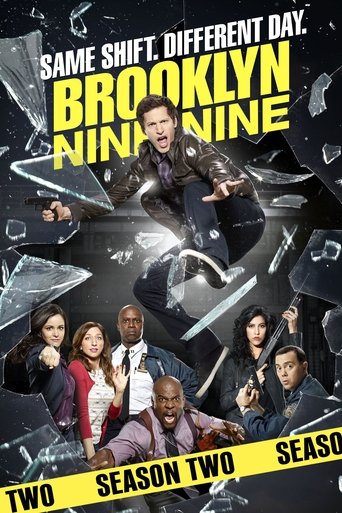 The precinct goes into lockdown mode on Thanksgiving night, and Jake, who was left in charge, is confident in his ability to keep spirits high and avoid chaos. Amy is less confident, as things spiral out of control.
expand_more
Description
Imdb: https://www.imdb.com/title/tt4135098

Brooklyn Nine-Nine - S02E07 (2014) Lockdown The precinct goes into lockdown mode on Thanksgiving night, and Jake, who was left in charge, is confident in his ability to keep spirits high and avoid chaos. Amy is less confident, as things spiral out of control. 22 mins | 7.9 10 (921) | Quality : | Episode Rank : # MPAA: (TV-14) - Parents Strongly Cautioned Cast: Andy Samberg, Stephanie Beatriz, Terry Crews, Melissa Fumero, Joe Lo Truglio, Chelsea Peretti, Andre Braugher, Dirk Blocker, Joel McKinnon Miller, Oliver Carter, Pete Davidson, Cleo Fraser, Scott Michael Morgan, Lindsey Sims-Lewis, Helen Slayton-Hughes, James Morrison, Bradley Whitford, Eric Roberts, Colin Campbell, Douglas Bennett, José Chávez, Dave King, John O'Leary, Stacy Keach, Garry Marshall, Leslie Simms, Jack Axelrod, James Greene, Bob Minor, Armelia McQueen, Marilu Henner, Steven M. Gagnon, Robin Bartlett, Dirk Blocker, Allan Graf, Sandra Bernhard, P.L. Brown, Annie Korzen, Rhea Perlman, Olga Merediz, John Franklin, Fernando Martínez, Greg Germann, Ron Gilbert, Eddie Pepitone, Gina Gershon, Jimmy Smits, Kyra Sedgwick, Brad Hall, Danny Trejo, Lou Diamond Phillips, Mike Hagerty, Fred Melamed, Kelly Sullivan, L. Scott Caldwell, Katey Sagal, Tom Billett, Stephen Root, Bob McCracken, Adam Sandler, Andre Braugher, Jan Munroe, Dennis Haysbert, Aida Turturro, Dennis Cockrum, Perry Anzilotti, Nick DeMauro, Yan Birch, Bertila Damas, Mo Gaffney, David Grant Wright, Michael Donovan, Tara Karsian, Steve Tom, Damon Wayans Jr., Tim Powell, Joel McKinnon Miller, Christopher Michael, Don Creech, Craig Stepp, Ian Roberts, Ryan Phillippe, Jernard Burks, Toby Huss, Mike Mitchell, Richard Assad, Richard Penn, Brent Briscoe, Mary Lynn Rajskub, Mark Berry, Maya Rudolph, Nick Offerman, James Urbaniak, Niecy Nash, Paul Adelstein, Sarah Baker, Zooey Deschanel, Paul F. Tompkins, Patton Oswalt, Kate Flannery, Andrew Daly, Archie Panjabi, Dean Winters, Andy Richter, Desmond Harrington, Tim Meadows, Harvey J. Alperin, Terry Crews, Jason Boegh, Jasper Cole, Nathan Fillion, Morgan Walsh, Jim O'Heir, Joe Lo Truglio, Ken Marino, Bruno Amato, Reggie Lee, Garret Dillahunt, Oscar Nuñez, Eva Longoria, Kathryn Hahn, Jeff Marlow, Audrey Wasilewski, Vahe Bejan, James M. Connor, Becky Thyre, Branton Box, Jon Daly, Jacquie Barnbrook, Matt Besser, Matt Walsh, Susan Berger, Sandra Lee Gimpel, Anthony Azizi, Joey Diaz, Larry Guli, Nick Cannon, Chris Parnell, Fred Armisen, Jerry Minor, Adam Johnson, Mark Weiler, Andrew Friedman, Andrew Patrick Ralston, Jerome Ro Brooks, Jamal Duff, Craig Robinson, Billy Merritt, Ed Helms, Jamie Denbo, Rob Huebel, Seth Morris, Lance Barber, John Ross Bowie, Marnie Crossen, Allen Evangelista, Kate Butler, Riki Lindhome, Eric Edelstein, Kanin Howell, Michael Klesic, Nate Torrence, Nick Kroll, Nick Nicotera, Mike Watson, Kristin Hensley, Ruben Dario, Jonathan Camp, Brian Huskey, Jorma Taccone, Bill Hader, Kim Estes, Cedric Yarbrough, Adam Lamb, Jennifer Holloway, Craig Gellis, Paul Urcioli, Dan Bakkedahl, Andy Samberg, Joyce Guy, Rocky McMurray, Eugene Cordero, Kelly Keaton, Carlos Antonio, Jason Mantzoukas, Andy Kreiss, David S. Jung, Kyle Bornheimer, Tom Proctor, Darlene Kardon, Todd Aaron Brotze, Cornell Adams, Jerry Lambert, DaJuan Johnson, David Figlioli, Joshua Feinman, Matt Lasky, Phil Miler, Sarah Chaney, Lou George, Sari Lennick, Charles Baker, Kirk Bovill, Matthew Willig, Christopher Gehrman, Rob Kerkovich, Joshua Elijah Reese, Rolando Boyce, Helen Slayton-Hughes, Stephanie Beatriz, Kulap Vilaysack, Galen Howard, Neil deGrasse Tyson, Amanda Lund, Scott Aukerman, Danny Belrose, Ray Campbell, Anthony Molinari, Clayton English, Luis Moncada, Adrian Moreira-Behrens, Joseph A. Garcia, Charlie Sanders, Carrie Armstrong, Amato D'Apolito, Jenny Slate, Kyle S. More, Sujata Day, Marque Richardson, Jess Allen, Maynor Alvarado, Brandon Morales, Amanda Rivas, Elena Varela, Michael Blaiklock, Kenny Stevenson, Jay Sincere, David Theune, Houston Rhines, Exie Booker, David Terrell, Troy Vincent, Phil Abrams, Dan Donohue, Kelvin Brown, Barry Cullison, Christopher Rocha, Scott Mescudi, Amy Okuda, Marc Evan Jackson, Tisha French, Shelley Robertson, Alex Ball, Jake Lockett, Joseph Aviel, Wayne Lopez, Matthew J. McCarthy, Kevin Bigley, Anthony L. Fernandez, Beth Dover, Gabe Liedman, Zedric Harris, Michael Grant, Spencer Crittenden, Jasmin Savoy Brown, Nick Gracer, Felipe Alejandro, Stella Angelova, Julia Emelin, Anders Holm, Brendan Norman, Merrin Dungey, Mary Elizabeth Ellis, Will Hines, Joseph Callari, Rachael Drummond, Scott Michael Morgan, Ilana Guralnik, Corey Allen Kotler, Derek Viveiros, Martinez, Mike Ostroski, Eddie Diaz, Deep Rai, Matthew Harris, Jack Nathan Harding, Ravi Naidu, Amanda Reed, Christopher Griffin, Scott Broderick, Theo Breaux, Denell Johnson, Jeff Bosley, August Roads, Michael Marc Friedman, Peter A. Hulne, Marshawn Lynch, Makeda Declet, Heather Olt, Catherine Carlen, Ray Abruzzo, Brett Easton, Melissa Fumero, Nicole J. Butler, Grace Rowe, S.E. Perry, Rajan Velu, Dan Cole, Andy Forrest, Mel Cowan, Michael James Bell, Kate Rene Gleason, Travis Parker, Kaliko Kauahi, Abigail Marlowe, Jeff Lewis, Brian Byrnes, Maurice Hall, Paige Smith, Jim Garrity, Christian Ford, Vladimir Caamano, Ryan Radis, Laura Hammer, Charles Carpenter, Paul Mabon, Aubrey Manning, Cynthia Rose Hall, Peter Banifaz, Chelsea Peretti, Andres du Bouchet, Sean Mann, Anthony M. Bertram, Christina Brown, Drew DiFonzo Marks, Josh Casaubon, Frederick Koehler, Will McLaughlin, Joe Keyes, Danny Araujo, Dutch-Barre Johnson, Joe Roche, Doreene L. Hamilton, Jama Williamson, Malcolm Devine, Billy Ray Gallion, Danielle Aubuchon, Chip Chinery, Sean Dillingham, Joe Theismann, Barry Squitieri, Chuck McCollum, Dimiter D. Marinov, Richard Burch, Alexander Harris, Katie Dippold, Martin Garcia, Mary Holland, Max Silvestri, Andrew Tinpo Lee, Juan Alfonso, Sebastien Stella, Brian Dare, Vishesh Chachra, Mitchell L. Johnson, Cj Stuart, Joe Jefferson, Brent Morin, Isabella Day, Kevin Dorff, Adwin Brown, Artemis Pebdani, Julie Brister, Derick Alexander, Moshe Kasher, Makayla Lysiak, Beth Hoyt, Doug Morency, Stormi Henley, Anita Bennett, Pete Davidson, Dale Pavinski, Frank Cappello, Cleo Fraser, Betsy Sodaro, Mariano 'Big Dawg' Mendoza, Jonathan Craig Williams, Cassius M. Willis, Ian Gary, Kimberly Hebert Gregory, Armand Vasquez, Carole Gutierrez, Harry Yi, Rebecca Berman, Sam Adegoke, Paxton Booth, Stacie Greenwell, Joe Mande, Deren Tadlock, Neil Campbell, Esther Povitsky, Antonio Raul Corbo, Jim Hoffmaster, Anthony Soike, Jonathan Marballi, Phil Levesque, Hermie Castillo, Winston Story, Theodore Barnes, Phil Augusta Jackson, Ashley Dulaney, Casey Feigh, Nicole Pettis, Alek Cole, Seth Carr, Ruben Vernier, Liz Benoit, Jon Root, Dean Sharpe, Charmel Catrell, Edelyn Okano, Michael Gantz, Gabe Delahaye, Emily Spivey, Elle Russ, Gee Alexander, Philippe Stella, Scott Deckert, Jillian Davis, Gatsby Coram, Irina Skaya, Kevin D'Arcy, Apollo Robbins, Justin McCully, Alixandrée Antoine, Karl Brian Miller, Tricia McAlpin, Brian Abraham, Destiny Fernandez, London Kim, Kelsey Yates, Sasha Golberg, Skyler Yates, Andrew Oliveri, Quintyne Lawrence, Oliver Carter, Lindsey Sims-Lewis Genre: Comedy, Crime Date Published: 2014-11-16 Directors: Michael McDonald, Max Winkler, Bruce McCulloch, Nisha Ganatra, Michael Blieden, Alex Reid, Fred Goss, Jorma Taccone, Kat Coiro, Jamie Babbit, Troy Miller, Jay Karas, Phil Lord, Christopher Miller, Craig Zisk, Tim Kirkby, Beth McCarthy-Miller, Linda Mendoza, Maggie Carey, Peter Lauer, Julie Anne Robinson, Tristram Shapeero, Phil Traill, Julian Farino, Akiva Schaffer, Jason Ensler, Ryan Case, Payman Benz, Jaffar Mahmood, Jake Szymanski, Eric Appel, Tucker Gates, Rebecca Asher, Dean Holland, Claire Scanlon, Ken Whittingham, Trent O'Donnell, Victor Nelli Jr., Michael Engler, Michael Schur, Michael Spiller, Daniel J. Goor, Matt Nodella, Cortney Carrillo, Giovani Lampassi, Luke Del Tredici Language: English Country: USA Imdb Link: Lockdown


More at ibit.to
And ibit.uno
And ibit.am
And ibit.ws
Files
Brooklyn.Nine-Nine.S02E07.HDTV.XviD-AFG.avi
168 MB
Brooklyn.Nine-Nine.S02E07.HDTV.XviD-AFG.nfo
400 B
Torrent Downloaded From ExtraTorrent.cc.txt
100 B
Stream
Downloading
Seeding
Brooklyn.Nine-Nine.S02E07.HDTV.XviD-AFG
from
to
0 peers
.
of
↘0 b/s / ↗0 b/s